Creating an Opportunity on the Recruit platform can take as little as 3 minutes. When you're signed in as a Company, you simply click the Opportunities menu item as shown in the image below. If you haven't registered as a Company, simply visit https://www.recruit.com and click Employers Click Here. Be sure to register with your Company email domain, as we don't allow shared email domains like Gmail, Yahoo or Outlook for Company users.

You'll need to click the green Create new Opportunity button. Then you'll have the ability to enter the following information as shown in the below picture:
Opportunity Title: Pick a name for the Opportunity title that describes the actual job title or role. In the image below, I have entered Project Manager
Requisition Id: If you'd like to enter a Requisition Id or unique identifier for the Opportunity you may do it here. In this example, I have entered 18-2017. We don't display the Requisition Id on the Opportunity for the public to see. This is a private entry for your organizational records and tracking.
Keywords: Keywords are one of the founding pillars of Recruit. You should enter Keywords here by typing out a Keyword or Keyphrase and hitting enter. A keyword could be MBA or typed as a Keyphrase it could be Master of Business Administration. You may enter up to 18 Keywords and Keyphrases. Recruit will add a hash tag in front of each entry you make. We'll come back to the Keywords in a couple of minutes.
Opportunity Description: In this area, you may enter a description of the job in paragraph form.
As you scroll down, you'll see the Opportunity Requirements text area. In this section, Recruit users often enter a list of the requirements for the Opportunity, such as education level, certifications, ability to lift heavy boxes, travel obligations, etc. This is a great area to create a bullet list to be super direct about what you're seeking.
Further to this section, you'll find the following which is shown in the image below:
Published Public Profile Video Required with Application: Selecting this ensures that the Candidate must have at least one video publicly available on their profile. If you click yes on this item, Recruit will ensure that Candidates have a 30-60 second video on their profile for you to be able to view.
Additional Video Required with Application: This option, combined with Additional Video Description allows you to request that the Candidate record a specific 30-60 second video on a topic that you request. In the example I've provided below, I suggested that the Candidate explain a complex issue they had on a project and how they solved it.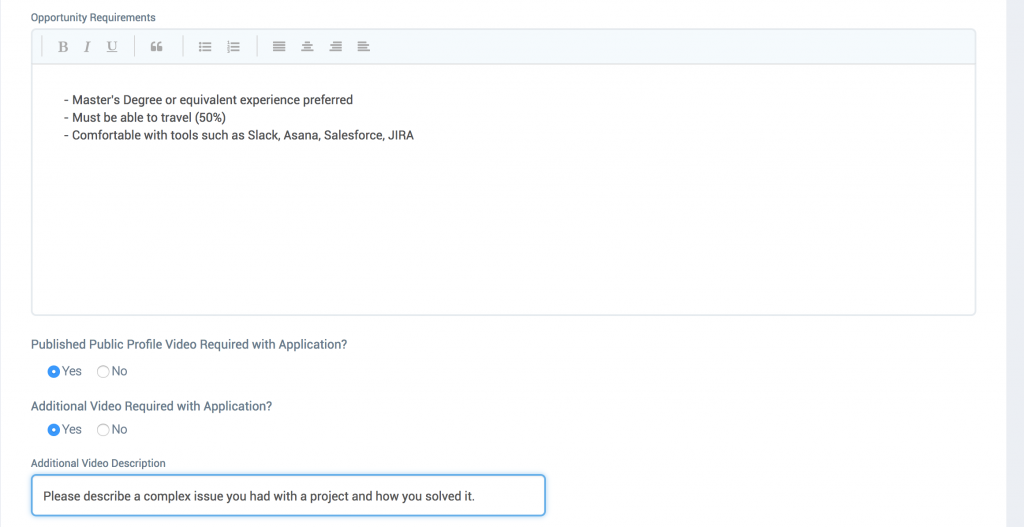 Remember when I mentioned that we'd get back to the Keywords? If you scroll back up and click the Gear button next to the Keywords, Recruit will read through the data you've entered so far and attempt to suggest additional relevant Keywords for you.

You'll note that the new keywords appear in Grey. If you see any you like, you can click the checkboxes for each and then click the Green Check Symbol below the Gear.

And finally, you can Rearrange the Keywords in the order of their importance. The Keywords to the top most left are considered to be the most important. Recruit color codes these for you, such that the darkest blue is the most important and the lightest blue is the least important. Note in this example I have dragged the #Asana Keyword to the furthest left and it is now dark blue.
Scrolling back down to the remaining section, you'll enter the following information as shown in the image below:
Country: This should be fairly straightforward. I'd just note that the Country of choice should be the location that the Opportunity would be in and the zip code option only appears if you've selected United States.
Opportunity Administrators: Recruit allows Companies to collaborate on hiring and placement. In this optional section, you can add other Opportunity Administrators if they have registered using the same company email domain and have the appropriate permissions in your Company administration portal.
Date of Expiration: Recruit allows an Opportunity to be posted for up to 120 days from the time of creation. You can always easily come back end edit the Opportunity to extend it's life. We simply do this to ensure good housekeeping of data for our Candidates.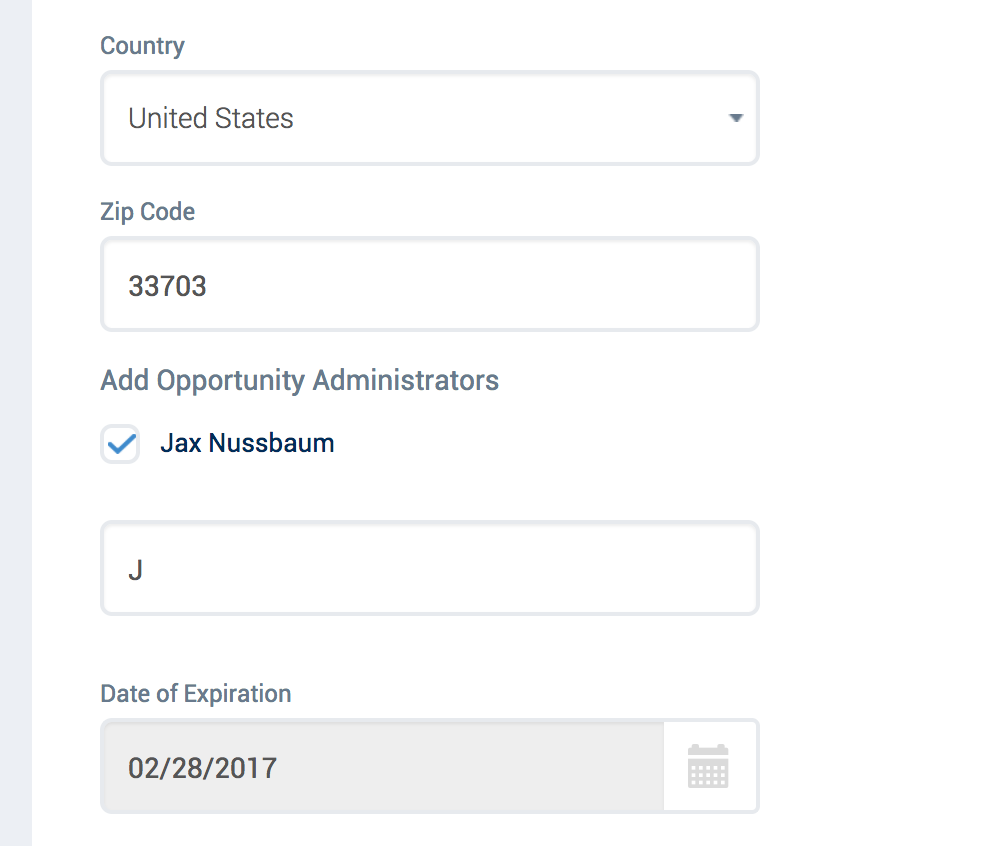 The last section is quite simple, with the following features as shown in the image below:
Mark this opportunity as featured: If you select this item, the Opportunity will be flagged as an Opportunity which should appear on your Company's public profile in the Featured area. Featured Opportunities are larger in size on your Company's public profile and will attract more attention from Candidates.
Mark this opportunity as a telecommuting opportunity: If you select yes for this item, you'll ensure that Candidates who are open to telecommuting Opportunities will be able to locate your post.
Employment Type: You can click one or more item in this area defining the type of employment for the Opportunity.
Maximum Compensation: This field is not required, however if you would like to identify the Maximum Compensation for the Opportunity you are able to do so.

And last but not least, you have the option to add a video to the Opportunity. Companies taking advantage of this feature tend to give Candidates a better understanding of the experience, role, culture of the Company, etc. You can either Upload a Video directly from your workstation, or select a video which is already in your Company Media Manager.

Once you run through this process a few times, you'll find that a just takes a few minutes to create each Opportunity. I would encourage you to be thoughtful about the Keywords and to consider uploading or attaching a video to each Opportunity you post. With this, you are able to define the attributes for Candidate you're really seeking and have a pre-loaded video message shown to them as soon as they discover you.